Post Background
Post History and Background
History
In 1995 the Angeles National Forest and the Boy Scouts of America established an Explorer Post on the Angeles National Forest.

The Post was established By Chief G. Greenhoe and Chief J.Hall.


Background
Explorer Post 99 has introduced a countless amount of young individuals into exciting Wildland Firefighting careers with the United States Forest Service and other Firefighting Agencies. There have been over 2000 young individuals that have been a part of Explorer Post 99.
Explorer Post 99 is now in it's 23rd Year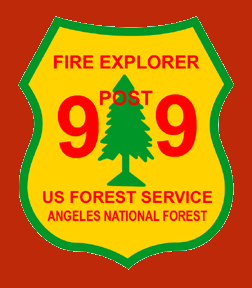 Academies
Post 99 has sponsored 27 Wildland Fire Explorer Academies.

Every year the acadamy gets more and more applicants and it has become very competitive to get in because of the excellent reputation the academy has obtained.

Over 80% of our Academy graduates have obtained careers with the U.S. Forest Service and other Firefighting Agencies.
Post 99 Patch
Explorer Post 99 has produced a countless amount of Professional Wildland Firefighters!
Post 99- a Wildland Fire Explorer Post